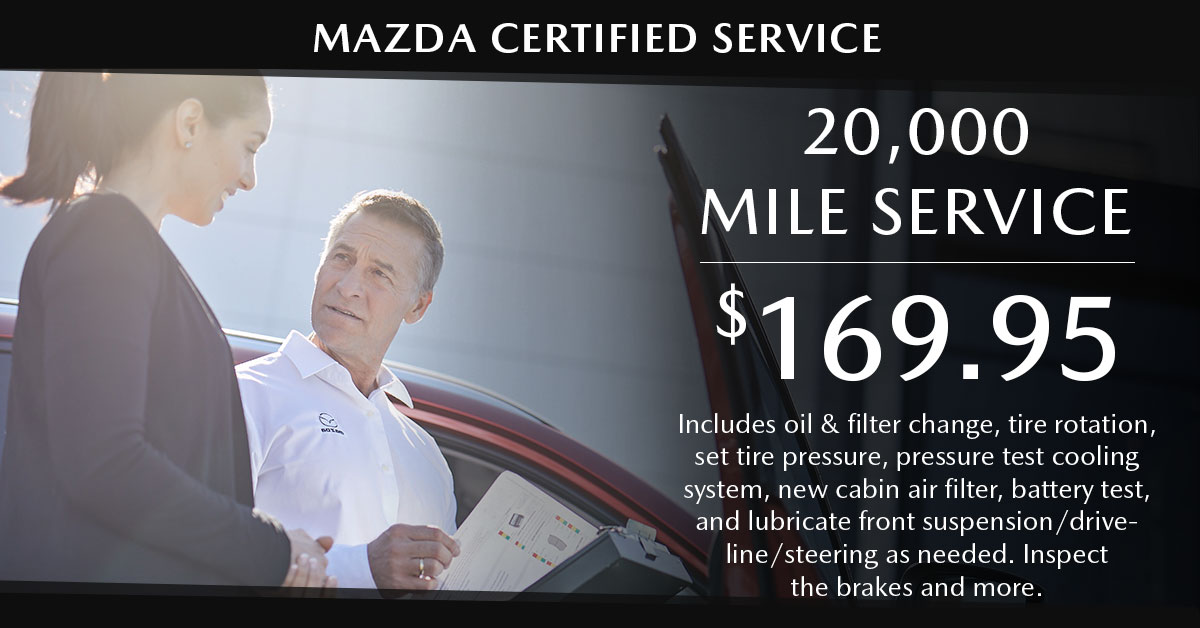 Mazda 20,000-Mile Recommended Service Interval
Your journey with your Mazda is just getting started after 20,000 miles. However, some parts react to wear and tear a little more quickly than others. You don't want to have a taillight go out, wipers that don't work, steering that isn't in alignment, or brakes that need a little work. Fortunately for you, at Chapman Mazda of Egg Harbor Township, we've got just the service to address all of those concerns. It's about time you scheduled a 20,000-mile service appointment for your vehicle.
  Save to Phone
  Schedule Service
---

Which Services Does a Mazda Require after 20,000 Miles?
A 20,000-mile service includes an oil & filter change, tire rotation, setting your tire pressure, pressure testing the cooling system, installing a new cabin air filter, a battery test, and lubrication of the front suspension/driveline/steering as needed. While we're at it, we'll also inspect the brakes, exterior lights, wipers, alignment, and more. We'll make sure that your vehicle leaves our location in prime condition for your upcoming adventures.
Why the 20,000-Mile Service Interval Package is Necessary for Your Mazda
Okay, we get it. You probably think that traveling 20,000 miles isn't much. And you're right, you and your Mazda have so much further to go! There are parts on your vehicle, though, that require more frequent attention and care than others, and those are the parts that we're going to take a look at. In 20,000 miles, your Mazda has likely been through some inclement weather, bumps in the road, a pothole or two, sudden stops, and other inconveniences. Nothing too dangerous, but enough to necessitate a closer look at parts on your vehicle that keep you safe during those events. That's why it's important that we take a good look at things like your wipers, brakes, lights, filters, alignments, and other parts to keep your Mazda running at peak performance.
  Schedule Service
---
Why Take Your Mazda to Chapman Mazda of Egg Harbor Township for Maintenance?
Makes sense, right? Let us tell you why we're the best option to service your Mazda. At Chapman Mazda, we take pride in providing the best service for your vehicle through our highly-trained, knowledgeable technicians. Our dealership is staffed with factory-trained, certified technicians who live and breathe Mazda. On top of our technicians, you'll have peace of mind knowing that your vehicle is being serviced with original equipment manufacturer (OEM) parts. We understand how important it is not to cut corners or use aftermarket parts when servicing your Mazda. We make sure that you leave our service department with the right parts, knowing that the right people installed them. Chapman Mazda of Egg Harbor Township is well-equipped to provide service to Mazda owners in Pleasantville, Northfield, Atlantic City, and Absecon. Get your Mazda scheduled for service with us today by calling or visit our website to schedule online!
  Service Department