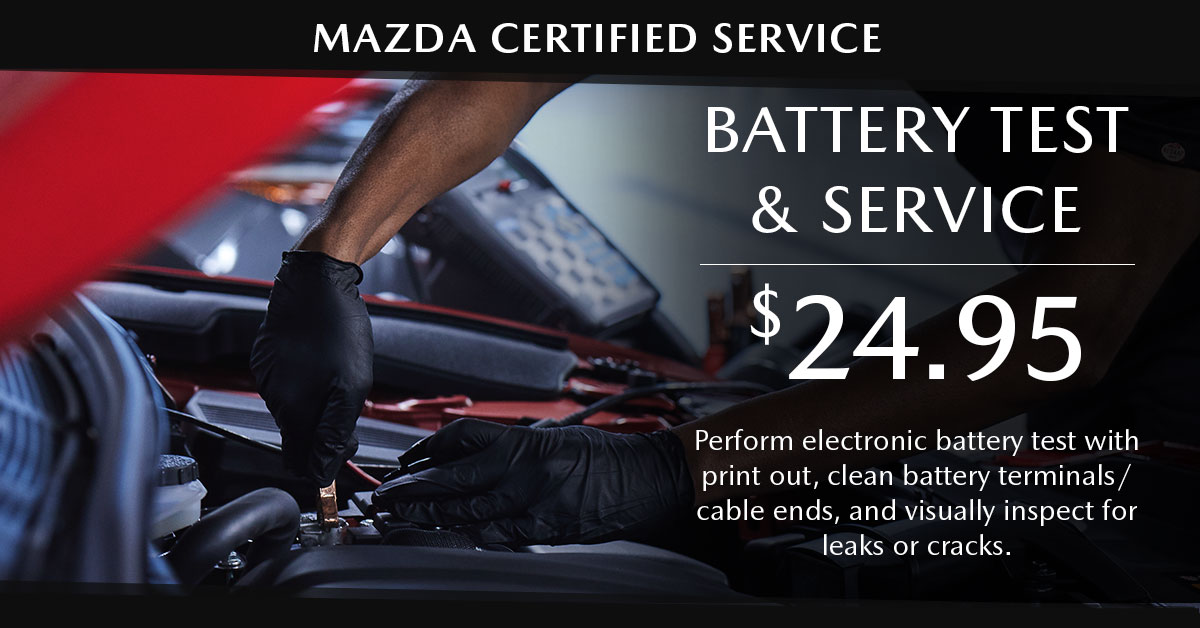 Mazda Battery Testing And Inspection Service In Egg Harbor Township
It's a situation that most of us have encountered at some point in our lives. You go to start your vehicle, and nothing happens. The reason is your car battery is failing on you at the worst possible time. At Chapman Mazda, we help drivers avoid the inconvenience that a dead battery provides with testing and inspection from our certified technicians.
  Schedule Service
  Save to Phone
---

More About A Mazda Battery Test And Inspection
Having a reliable battery through the extreme temperatures that New Jersey brings is critical. A battery test and inspection is a relatively simple process using a high-grade battery tester. Our certified technicians will examine your Mazda's battery charge and battery health and then give you a recommendation if a replacement is necessary. Also, we'll inspect the cables and terminals of the battery to look for signs of corrosion.
When Should I Get My Battery Tested?
There are a few signs that would warrant a visit to our location for a battery test. Don't wait to come in for a battery test if you notice any of the following:
Your Engine Turns Over Slowly- Low car battery voltage can cause your battery to have a difficult time turning over.
Dim/Flickering Lights- Your battery probably isn't fully charged when inside lights don't seem as bright or dim headlights.
Clicking Sound- There can be a clicking sound under the hood when your starter doesn't receive enough power to get the engine started.
Getting your car battery tested can save you from getting stranded. Good batteries can typically last anywhere from 3 to 5 years, but you should always come in for an inspection if you notice any of these symptoms. Here in New Jersey, we have cold winters and hot summers, putting a strain on your battery quicker.
  Schedule Service
---
Why Make The Visit To Chapman Mazda?
Our Mazda-trained technicians always have your best interest in mind, and we can provide you with the confidence you deserve with a battery test and inspection. Should you need a replacement battery, we can install a high-performance one quickly so you can get back on the road. We operate at a state of the art facility that has convenient hours of service availability, including Saturdays if you need it. Our friendly staff is always here to welcome you for any service you need. If you think it's time for a battery test and inspection, feel free to make an appointment online or give us a call.
  Service Department