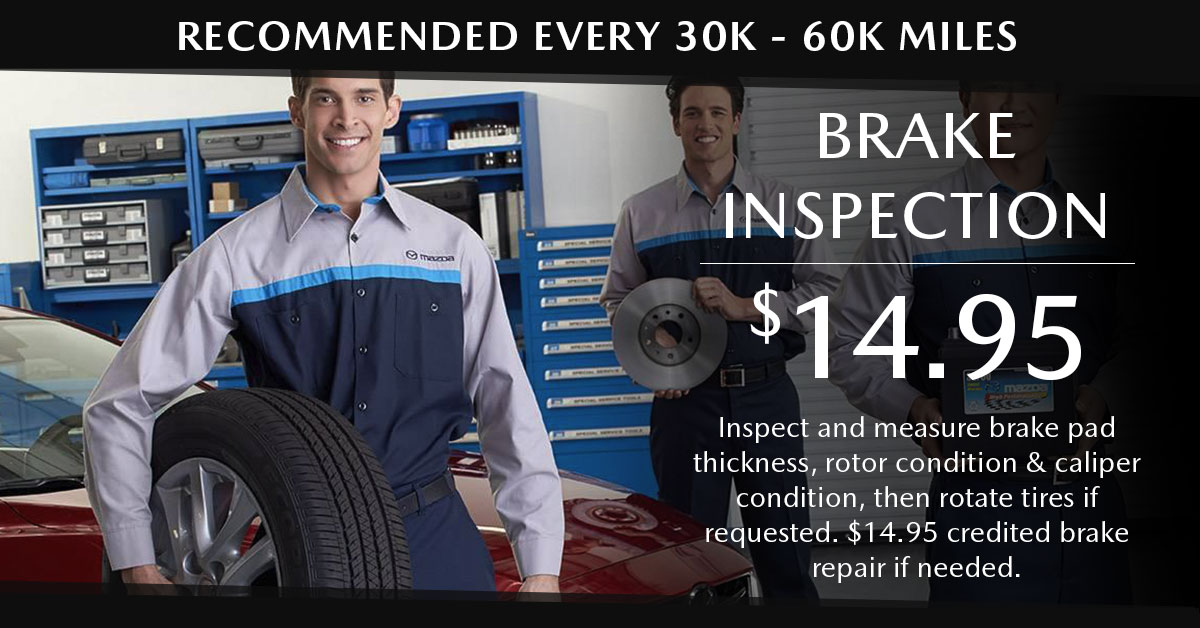 Mazda Brake Inspection Service in Egg Harbor Township
Let's talk about brakes! It's hard to say exactly when they need to be checked because a lot can depend upon your driving style if you're more frequently driving in the city than on the highway, and other driving habit factors. Being one of your vehicle's most important features, brakes are a crucial component in keeping yourself and others on the road safe when you need to come to a stop. Well-maintained, quality brakes give you the peace of mind that you can safely and efficiently bring your vehicle to a halt without fail. At Chapman Mazda of Egg Harbor Township, we understand that many factors go to when you need to schedule a brake inspection, but there are some telltale signs that your brakes need to be inspected.
  Save to Phone
  Schedule Service
---

The Warning Signs of Brakes That Require Attention
You can do a visual inspection of your brakes to see if they need service. If you take a look through the spokes of your wheel and find that the brake pads appear to be less than one-quarter inch thick, it's probably best to get them looked at. It's an obvious sign, but you definitely don't want your brakes squealing when you come to a stop. Well-maintained brakes that don't need service won't make noises. And, if you notice a decrease in your stopping power, that is definitely a sign that it's time to get your brakes inspected. If you hear any grinding when you press on your brakes, it is absolutely crucial to get your brakes inspected as soon as possible. Remember that preventative care for your Mazda's brakes is much cheaper than paying to repair more extensive (and expensive) damage done through neglect.
Unreliable Brakes Are a Safety Hazard to You and Others on the Road
And that's an understatement. Driving your Mazda with less-than-optimal brakes means it takes longer to stop, it makes for an uncomfortable and unpleasant driving experience, and, most importantly, leaves you potentially prone to collisions. Needless to say, a brake inspection isn't something you want to put off until the last possible moment. Scheduling a brake inspection at Chapman Mazda means that you can hit the road with confidence, and when it's time, safely stop at the end of your journey.
  Schedule Service
---
Schedule Your Next Brake Inspection at Chapman Mazda of Egg Harbor Township
When you schedule a brake inspection for your vehicle with Chapman Mazda, you will receive a detail-oriented service from our highly-trained, certified technicians. All of our services utilize original equipment manufacturer (OEM) parts, so you can rest easy knowing that your Mazda is being outfitted with the correct parts by Mazda-trained technicians. Providing service to customers as far as Pleasantville, Northfield, Atlantic City, and Absecon, Chapman Mazda is where to schedule your brake inspection. Call our service department today, or use our online scheduling tool to schedule online.
  Service Department