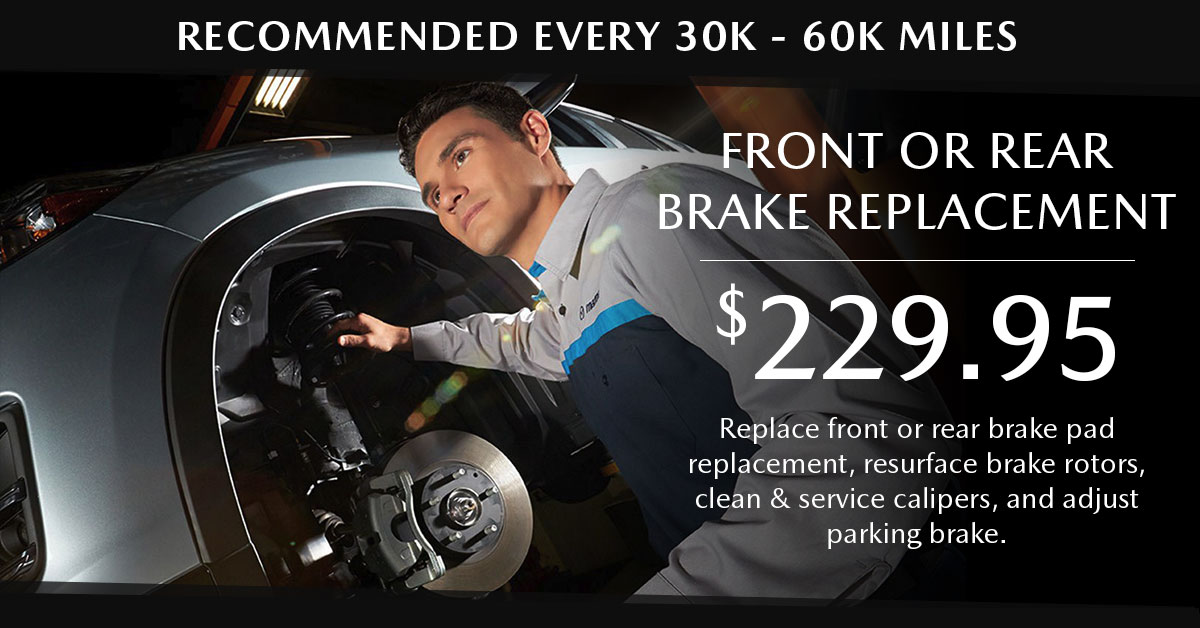 Mazda Brake Service in Egg Harbor Township
At Chapman Mazda, we take care of front brake pad replacement and rear brake pad replacement when your vehicle needs brake services in Egg Harbor, Pleasantville, Northfield, Atlantic City, or Absecon, NJ. Our service center is conveniently located, and we make getting brake work done on your vehicle a simple process. Keep your vehicle safe by ensuring that your brakes are in good working order by getting your brake pads inspected and replaced as necessary.
  Schedule Service
  Save to Phone
---

When to Replace Your Front or Rear Brake Pads
Brake pads will last about 40,000 miles, but there is a wide range depending on your driving habits. If you spend many hours on the highway without using your brakes often, your brake pads can last beyond 40,000 miles. If you are an aggressive driver and slam on your brakes frequently, you will need brake pad replacement much sooner. Your brake pads should be replaced if you hear a squealing noise, or if your stopping power is less than it was before. If a grinding noise occurs, your brake pads are dangerously low, and you are going to damage your brake parts if you continue to drive the vehicle.
Egg Harbor Township Front or Rear Brake Pad Replacement
You have both front brake pads and rear brake pads. Front brake pad replacement is often more frequent, as your front brake pads are responsible for roughly 75% of your stopping power. The front brake pads are larger than the rear pads, and they will often wear out faster than the rear brake pads. If you hear squealing noises when you press down on your brake pedal, it's time to get your brake system inspected to see what is going on.
General Vehicle Maintenance
Brake pad replacement and brake inspections are a good part of a strong vehicle maintenance program. You should get your brakes inspected when you get an oil change or notice a problem with how your brakes are working. Oil changes, fluid top-offs, and tire pressure checks are all an integral part of keeping your vehicle safe for the road. We have a comfortable waiting area, free wi-fi, and we will talk to you about any work that is needed on your vehicle when you bring it in for Mazda brake pad replacement.
  Schedule Service
---
Get Your Front or Rear Brake Pad Replacement Now
At Chapman Mazda in Egg Harbor Township, we are committed to quality customer service. We take care of your brake pad replacement, routine maintenance, and all repairs so that you can keep your car safe on the road. If you live in Egg Harbor Township, Pleasantville, Northfield, Atlantic City, or Absecon, NJ, make an appointment today to schedule your brake service.
  Service Department